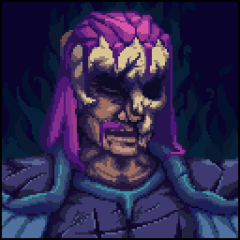 INTJ
Thanks for the link
I wonder whether the freeze in the japanese version equals the not-whiteout happenings in the us version ^^
I now calculated a bit more stuff and got an interesting results regarding Spells. I'm not sure if I made it correctly (again, I'm prone to make mistakes when calculating :/), but what I've found is as follows:
- You need to know, that if an enemy is weak to a certain element he does not simply take double damage. The correct thing to say is, that the "Force" of the spell gets doubled
- I made a small table of, which level of "effective" spell roughly equals "normal" spells
Code:
Normal - Effective
2      - 0
4      - 1
6      - 2
8      - 3
- Now comes the interesting part: Using the table values, the effective spells 'usually' do on average around 15% more damage (that's as "near" as it gets - any level higher/lower results in one or the other element dominating)
- However, there is a random chance (of about ~20%, which gets smaller the higher level you get) that another calculation comes in place for the Force, where there is a HUGE difference between the two spells
- The "normal" spell hits for a much higher (~depending on enemy Magid Def) damage number, roughly 50%-100% higher
In short: "Effective" Spells are usually stronger, however there is a 20% chance, that the "normal" spell would do way more damage.
I'm horrible at explaining.. But I hope you understand what I mean. Using the same Element over and over again can actually outpace the low level "effective" elements. At least the high level "normal" element is way more consistent in dealing damage, which could be beneficial in a SS run (as in: You have a much smaller range of amount of spells you have to cast).
Edit: Just read HHS' post again about the spells... I guess leveling a spell past Level 7 is not really worthwhile, since it's still calculated as being level 7, and instead you have the CHANCE to cast the level 8 spell (with the fancy graphics which may be slower anyway)
Edit2: The main "problem" I've realized by now is, that almost everything in this game is calculateable... I'm thinking about creating a "simulator"... Anyone got a simple language/tool to create such a thing? I know a fair bit of PHP, but that would be a bit too 'awkward' to make quick simulations