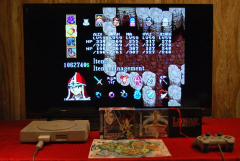 Dragon Ball Z Super Butouden (1993) - weirdest idea or best idea for a game of its era and system?
Forget 3-dimensional chess, this is 4-dimensional tennis with a twist!!!
I remember being very impressed by this game as a kid.

Plus, Piccolo's name translation in this game is Satan so you know it's good. If you look up the programming code it's written in necronomicron.
Thread title: